The Federal Reserve Open Market Committee (FOMC) released its decision on the federal funds rate earlier today at the September meeting maintaining the range of 5.25-5.50%. Commentary indicated that the economy has been growing at a solid pace, and the labor market has remained resilient. However, the release also noted that credit conditions have tightened for both businesses and households, which is likely to impact the economy, labor market and inflation. As evidenced by the latest Consumer Price Index report, inflation remains elevated.
The Federal Reserve's Summary of Economic Projections provides some insight into the committees' thoughts on the outlook. The Federal Reserve Dot Plot below is the graphical representation of each FOMC member's interest rate forecast over the next three years.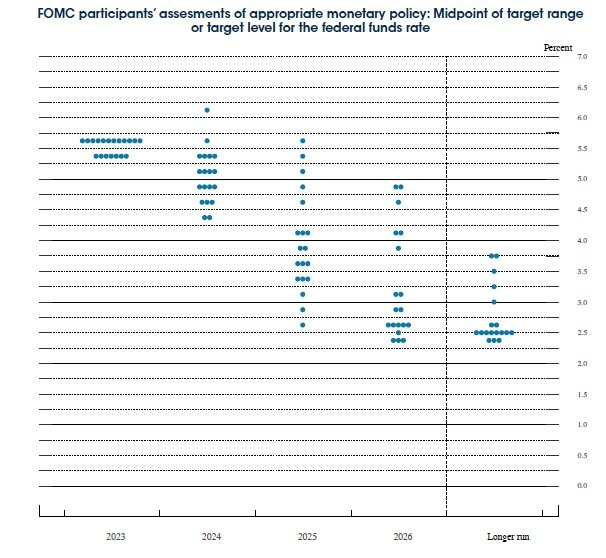 Source: Federal Reserve
NOTE: Each shaded circle indicates the value (rounded to the nearest 1/8 percentage point) of an individual participant's judgment of the midpoint of the appropriate target range for the federal funds rate or the appropriate target level for the federal funds rate at the end of the specified calendar year or over the longer run. One participant did not submit longer-run projections for the federal funds rate.

Voting for the monetary policy action were Jerome H. Powell, Chair; John C. Williams, Vice Chair; Michael S. Barr; Michelle W. Bowman; Lisa D. Cook; Austan D. Goolsbee; Patrick Harker; Philip N. Jefferson; Neel Kashkari; Adriana D. Kugler; Lorie K. Logan; and Christopher J. Waller.

Per today's Federal Reserve's news release, members reemphasized their commitment to using the tools at their disposal to try and tackle inflation. The FOMC's next decision regarding fed fund rates will be announced on Nov. 1.