Hello and welcome,

During a quarter that was highlighted by shifting monetary policies and increased geopolitical tensions, we continued to advise our clients on a wide range of transactions.
This edition of the Quarterly Update features exclusive perspectives from senior bankers in every sector and subsector that we serve, on major trends that have emerged so far this year and what to look for in the months ahead.

I hope you find it useful.
Brad Eichler
Executive Vice President, Head of Investment Banking
ANTHONY DONGES JOINS AS DIRECTOR IN LONDON FOR THE CONSUMER ADVISORY TEAM
The firm announced in February that Anthony Donges joined Investment Banking as Director within the Consumer advisory practice in London. Mr. Donges has extensive Consumer M&A experience, and has worked with a broad client base of entrepreneurs, family-owned businesses, private equity and corporate clients. He joins the senior team at Stephens from KPMG, where he was a Director in the Consumer Goods and Retail team. Mr. Donges has worked in the industry for 13 years and recently has advised on notable transactions such as SportPursuit's investment by bd-capital as well as Mindful Chef's majority stake acquisition by Nestle. Stephens' Consumer practice has dedicated senior bankers across Little Rock, New York, London, and Frankfurt, and is active in all segments of the industry.
KEITH BEHRENS TO SPEAK AT HOUSTON ENERGY FINANCE GROUP
On Wednesday, May 18, Keith Behrens, Managing Director and Head of Energy & Clean Energy Transition at Stephens Investment Banking, will speak at Houston Energy Finance Group. He will address the current private equity and private debt landscape for oil and gas companies. Mr. Behrens has generated and led the execution of various M&A, public & private equity and senior & mezzanine debt transactions representing approximately 200 transactions and $47 billion in transaction volume. He also serves on the board of directors of the Dallas Petroleum Club.
BANKER PERSPECTIVES: SECTOR-LEVEL

Consumer
Consumer Products & Retail companies with strong brand recognition, health-conscious positioning, or pricing power remain poised to command premium valuations within the marketplace. Tight inventories and high per-vehicle margins have contributed to strong profits for auto dealers. U.S. food prices may rise significantly this year, due to pre-existing domestic inflation trends, elevated freight costs, avian influenza, and wheat import disruptions caused by Russia's invasion of Ukraine. And the omicron variant surge of COVID-19 had a meaningful but brief impact on the restaurant subsector compared with previous variants, as online delivery platforms invested in payments and marketing capabilities.

Energy & Clean Energy Transition
The price of WTI crude oil rose from $75.21 per barrel on Dec. 31 to $123.64 on March 8, and ended the first quarter at $100.28. This was largely due to ramifications of the Russian invasion of Ukraine, with the U.S. tapping the Strategic Petroleum Reserve after banning imports of Russian oil, liquefied natural gas, and coal. The conflict has put new emphasis on the strategic importance of renewable energy as an alternative to oil. As of April 1, the U.S. rig count stood at 673, up nearly 57% from a year earlier and up more than 14% from the start of 2022.

Diversified Industrials & Services
Supply chain disruptions, inflation, and labor shortages had moderate impacts on the Diversified Industrials & Services sector in the first quarter of 2022. Companies have been preparing to capitalize on recovery from the pandemic, stimulus from the federal Infrastructure Investment and Jobs Act, and digital transformation campaigns. Onshoring, service outsourcing, and infrastructure spend could contribute to deal activity for Specialty Distribution & Services companies. In Transportation & Logistics, the race is on to digitize the omnichannel customer experience through real-time access to data and automated workflows. And Russia's invasion of Ukraine has put renewed emphasis on Aerospace & Defense products.

Financial Institutions Group
Macro concerns about inflation and the potential for recession in the U.S. have largely been offset for depositories by a highly anticipated series of Federal Reserve interest rate hikes, the first of which since 2018 occurred in March. In both the U.S. and the UK, the widespread adoption of online investment services is prompting diversified financial services firms to consolidate with the goal of increasing digital capabilities and backend efficiencies. 2022 is shaping up to be a strong year across Specialty Finance with consumer loans and credit increasing during 1Q 2022, continuing trends that have prevailed since the first half of last year.

Health & Life Sciences
Certain companies active in Healthcare Services are bracing for higher medical costs and rate pressures, but progress on a new federal $10 billion COVID-19 relief bill may provide tailwinds in the months ahead. A growing global ecosystem of collaboration among different companies is enabling new breakthroughs in areas such as artificial intelligence and machine learning software for medical device providers. Pharmaceutical companies have been partnering with biotechnology firms on various initiatives, including gene-editing. In the Healthcare IT subsector, 1Q 2022 set the pace for another strong year with $11.3 billion of total M&A deal volume over 130 announced transactions, an increase over the 120 announced in 4Q 2021.

Technology, Media & Telecom
Retailers are accelerating adoption of technologies to provide "Unified Commerce" software capabilities and to improve worker productivity and retention. Deal activity in the Financial Technology & Payments space this year may surpass 2021 levels, especially if certain high-profile companies go public in 2022. In Media, advertising-based video-on-demand viewers may surpass subscription-based video-on-demand viewers in 2022. Continued interest from private equity firms drove record levels of first quarter M&A and investment activity in Security Software. As the demand for vertical software accelerates in 2022, so is the potential for leading strategic and financial buyers to acquire newer entities that may augment their capabilities or expand their market reach.
SELECT QUARTERLY TRANSACTIONS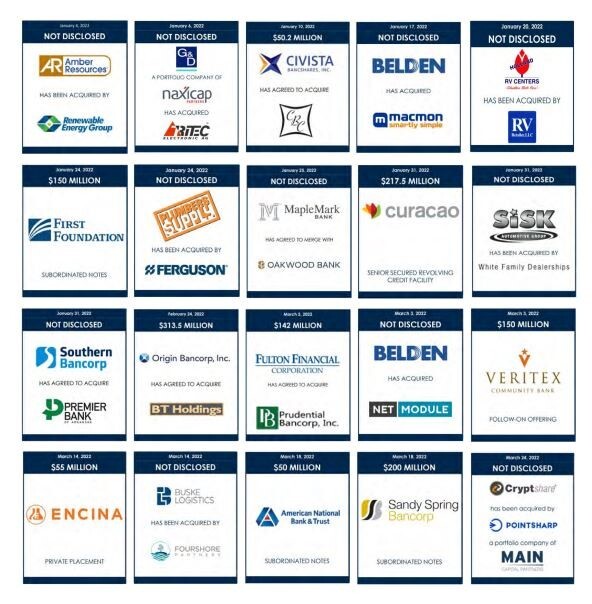 To see all Stephens Investment Banking transactions & advisory assignments, click here.